On Thursday, June 7, 2001 the California Japan Scholars Program honored its fifth generation of scholars at a reception in the Governor's Council Room. Before departing to Japan for their two-week summer educational exchange, high school students from Sacramento, Elk Grove, Chico, Yuba City and Martinez participated in ceremonies to celebrate the continuation of fifty years of productive relations between California and Japan.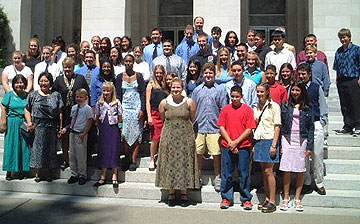 Pictured above are selected students, teachers, and administrators from the various school districts participating in the 2001 program. In the year 2001 alone, over 60 California students were given the opportunity to experience Japanese language and culture.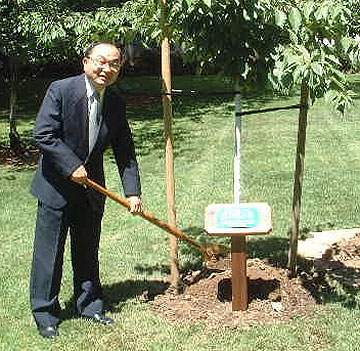 During the ceremonies, a memorial tree was added to the Sakura (cherry blossom) site outside of the Governor's Office to commemorate the 50th Anniversary of the Treaty of Peace with Japan signed on September 8, 1951. The California Legislature adopted ACR 33 (Hertzberg) last January to recognize California's strong ties with Japan and the importance of the 50th Anniversary project. This project will bring together world leaders from Japan and the US in San Francisco this September. Pictured above, Mr. Koichi Morita, Deputy Consul General of Japan in San Francisco, is the first to lay the groundwork for the planting of a Cherry Blossom.
---
California Japan Scholars Program
1020 N Street, Suite 516 · Sacramento, California 95814
(916) 651-1515 · FAX (916) 414-3706
Email · California/Japan Scholars Program