The advantages that students and school districts will receive from this program are exposure to diverse ideas and cultural introduction, stimulation of adolescent interest in Asia with a particular focus on Japan, opportunity to develop strong personal connections to draw contrasts with non-Western culture, opportunity for foreign language advancement and development, prestigious recognition for students and schools, and opportunity for districts to be on the cutting edge of global education and the important development of international relations. Students will spend a majority of their time with their host family, learning the characteristics of a traditional and ever changing Japanese and American family. California participants will be able to witness the differences in the traditional Japanese homes and more modern apartment blocks called danchi. They will also learn the basic customs and etiquette surrounding the entrance (genkan), bathroom (ofuro), and sleeping arrangements and they will be introduced to Japanese cuisine.
California students will study the three Japanese scripts, hiragana, katakana, and kanji as well as Japanese history and fine arts. The students will learn the difference in our respective educational systems including teaching methods, school week, the importance of college and entrance exams, and the introduction of the after school preparatory classes known as juku or yobiko.
Studying in California gives foreign students the opportunity to observe and to live in an open democratic system of government and learn about the potential of our State as a trading partner.
The CA-Japan Scholars Program not only teaches that Japan is the center of our economic policy in Asia, but allows the students to see how Japan's economy is interdependent with world markets, the global currency exchange, the effects of foreign direct investment by American companies, and the rise of multinational companies based out of Japan. Participants will also be introduced to the world of global transportation and communications, changing their perceptions of the world around them.
This program will compel students to organize their affairs, i.e. passports, money for airfare, etc., before their departure, allowing for maturity and team orientated growth.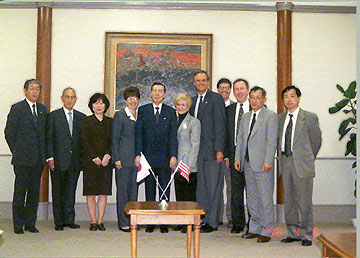 In 1998, a high level delegation of educational leaders from California met with Osaka school officials to discuss the benefits of international education. Pictured above from left are; Masahiro Wasa (Director of High School Supervision Division, Osaka Prefecture Board of Education), Syougo Kobayashi (Vice-representative of the Osaka Private Junior and Senior High School Principal Association), Masako Nakahira (Deputy Director General Department of Civic and Cultural Affairs), Assemblymember Susan Davis, Kan Hayashi ( Executive Director of Education, Osaka Prefectural Board of Education), Marian Bergeson (former Senator and then-California Secretary of Education), Gary Hart (former Senator and former California Secretary for Education), Scott Keene (representing the California International Relations Foundation), Michael Bott (representing the Elk Grove Unified School District), Naotake Amikura (Deputy Director General, Osaka Prefecture Board of Education), Tetsuhiko Ikegawa (Director, Osaka Private Schools Division Department of Civic and Cultural Affairs).
---
California Japan Scholars Program
1020 N Street, Suite 516 · Sacramento, California 95814
(916) 651-1515 · FAX (916) 414-3706
Email · California/Japan Scholars Program