The California-Japan Scholars Program was created by statute in 1996, following a California Senate delegation visit to Japan the previous year to strengthen economic relations between this state and our leading trading partner. The President pro Tempore Bill Lockyer, and Senators Hilda Solis, John Vasconcellos, and Cathie Wright met in Tokyo with Ambassador Walter Mondale. The former Vice President suggested that our great challenge in perfecting the U.S.-Japan partnership arose not from economic imbalances, but from an imbalance in understanding. He noted that Japan, for decades had invested in international education programs for its students, while comparatively few Americans were afforded an opportunity to study in Japan. The Ambassador suggested that California's best contribution to U.S.-Japan relations would be the establishment of an aggressive student exchange program that would serve as an example for the rest of the nation. Following that Senate delegation visit to Japan, the California-Japan Scholars Program was established under AB 2902 (Vasconcellos) and codified under Education Code Section 48054.
This program expands on the 1994 cooperation agreement between California and the Osaka Prefecture. Visits to Japan in 1996, 1997, 1998, 1999, and 2000 by Members of the California Senate strengthen the framework for the success of the California-Japan Scholars Program.
Excerpt from the 1994 Cooperation Agreement between California and the Prefecture of Osaka, signed by Governor's Pete Wilson and Kazuo Nakagawa on November 15, 1994:
"Given the current and potential vitality of the State of California and the Osaka Prefecture, as well as their strong cultural ties, the parties recognize that their regions can establish broader economic, technological, and cultural relations."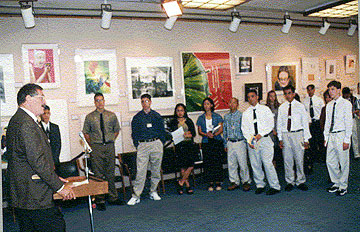 "As author of the legislation which created the California-Japan Scholars Program, I am delighted by our success in providing young citizens of our respective places an opportunity for visiting and meeting and learning about life and people in other's places, hopefully providing them a commitment for lifelong involvement in improving California/Japan relations, so critical to the world's well-being in the 21st Century."
John Vasconcellos
California State Senator
(Left, Above)
---
California Japan Scholars Program
1020 N Street, Suite 516 · Sacramento, California 95814
(916) 651-1515 · FAX (916) 414-3706
Email · California/Japan Scholars Program