The 2001 Program consisted of three separate exchanges:
Elk Grove to Osaka
The Elk Grove to Osaka Program took place from June 15 -30, 2001. Twenty-seven students and 3 chaperones will spend two weeks studying the cultural aspects of the Kansai region. Participants are selected from Elk Grove's five high schools and over 25,000 students on the basis of academic performance and demonstrated interest in expanding their knowledge of Japanese culture, society, and language.
While participating on this trip students from Osaka and California took part in a lecture and discussion commemorating the 50th Anniversary of the Treaty of Peace with Japan. Students from over nine Osaka Prefectural senior high schools and participants from past exchanges were able to take part in the lecture, with over 200 participants in total. This international forum was supported by the California Branch of the Rotary International.
The Elk Grove Unified School District is the second fastest growing school district in the nation and has the 12th largest enrollment in California. The district covers more than 320 square miles and serves more than 38,000 students in the southern Sacramento County. Students in the District speak more than 60 languages and come from a wide arrange of ethnic and cultural backgrounds.
In conjunction with this program, EGUSD is planning to implement an international baccalaureate curriculum into their schools, with an emphasis on history, geography, cultural awareness, and language acquisition.
The California-Osaka relationship was cemented with ACR 113 (Vasconcellos) and later with the Cooperation Agreement signed by Governor Pete Wilson and Governor Kazuo Nakagawa on November 15, 1994.
Saitama to Fremont
On July 21st through August 3rd, 2001, 30 students and three chaperones from Wako Kokusaibu in Saitama came to Fremont, California. The Japanese students attended half day classes from July 23rd through 27th, 2001 at Ohlone Junior College where they studied among other things, the "History of Elvis and Rock-n-Roll."  Students chosen to host their Japanese counterparts participated in the 2002 exchange.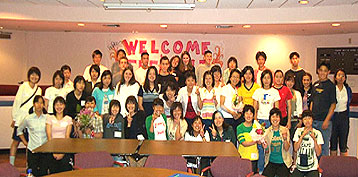 The Fremont Unified School District was selected by SchoolMatch as a 1997 award winning system, SchoolMatch recognizes the top ten percent of school districts nationwide which matches what parents say they want in a school system. In addition, Expansion Management magazine designated the Fremont Unified School District as a Blue Ribbon District for the third year in a row.
Wako International High School is one of the leading academic schools in the country. Founded in 1987 by Saitama prefecture in the hope that it would help prepare young people (aged 16-18 yrs) for leadership in the larger and inter-dependent world lying ahead of them, the school has since contributed to the innovation of the education of Saitama and of the whole country.
This relationship between the City of Fremont and the Saitama Prefecture began in 1979, when Fremont and Fukaya City became sister cities.
Martinez to Shizuoka
From June 16-30, 34 students from Martinez, Chico, Yuba City Unified School Districts, and the Christian Brothers High Schools will spent two weeks in Shizuoka, Japan to learn about Japanese language and culture. Twenty eight students from Alhambra High School in the Martinez Unified School District along with a limited number of students from throughout Northern California were selected to participate in the first year of this program. The California Department of General Services helped with the recruitment of the students throughout California.
The Martinez Unified School District serves the community of Martinez in northern Contra Costa County. The district's enrollment in 4,314. Students attend the district's four elementary schools, one middle school, one high school, continuation high school and an Independent Study program school. At present the district's K-12 grade enrollment is growing slightly each year. The district also offers a comprehensive Adult Education program which serves 25,600 students annually.
In 1995, the government of Shizuoka adopted the Internationalization Promotion Plan designed to develop global policy, including the development and implementation of original international exchanges, such as the California-Japan Scholars Program. Projects with Shizuoka, such as the California-Japan Scholars Program, are coordinated by JETRO Los Angeles office.
This program especially helped further students that are enrolled in Shizuoka Kita High School's international program. Students registered in those specifically designed classes, have advanced English language ability and a desire to be exposed to western civilizations.
---
California Japan Scholars Program
1020 N Street, Suite 516 · Sacramento, California 95814
(916) 651-1515 · FAX (916) 323-7827
Email · California/Japan Scholars Program