Martinez, California to Shizuoka, Japan
During the summer of 2007 ten students and two chaperones from Martinez visited Shizuoka, Japan, and were hosted by several schools in the southern region of the prefecture.  During their stay they enjoyed the opportunity to experience home hospitality, learning the local customs, foods and making new special friends in the process.  During their stay in Japan, they were exposed to day trips to Mt. Fuji, language and art classes, calligraphy, bamboo cutting, local dances, temples, shrines and many other facets of the Japanese culture.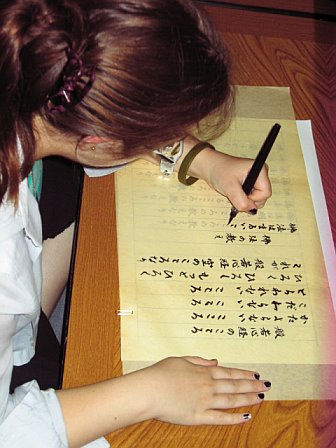 Slow steady hand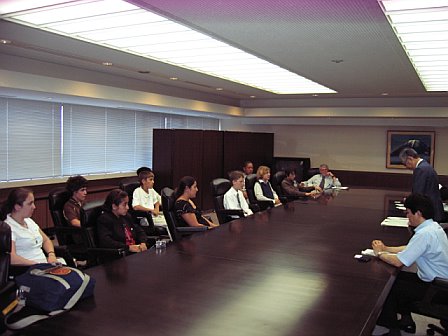 Meeting with the Lt. Governor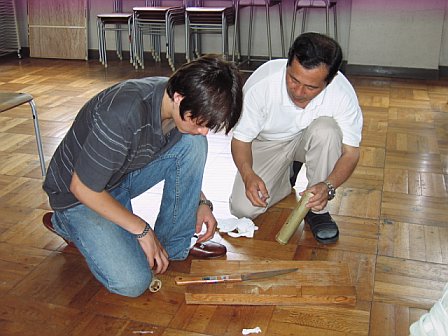 Working on bamboo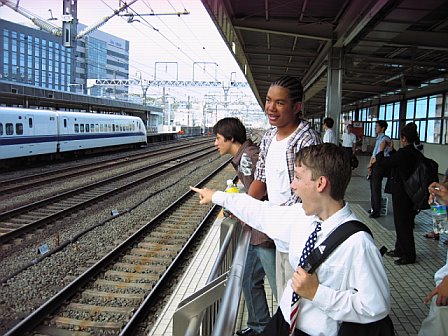 Bullet train sightings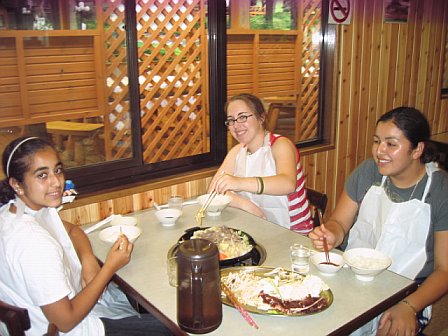 Enjoying the local food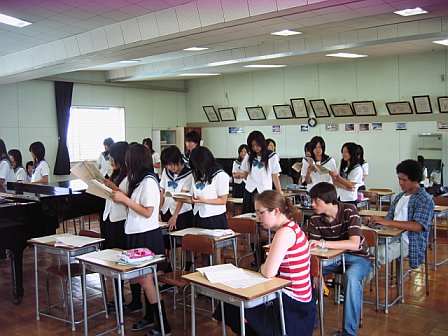 In the classroom
Before I visited Japan this summer, the country was little more than an abstract place in my mind. The only things I had to compare it to were animated cartoons like Pokemon and Inuyasha, and sushi (even then the sushi here is nothing like the sushi in Japan). I had only left California once in my life, and that was to visit family in Seattle. Needless to say, going to Japan, halfway across the world, was an enlightening and exhilarating experience. Visiting Japan changed my views, not only on Japan itself, but on the way I look at my home. One of the things I enjoyed most was how open and friendly everyone was. My host family was amazing. At school everyone was willing to help me when I didn't understand. Another great thing about the schools were the attitudes of the students. They were all there to learn, and those that found a subject boring slept or kept quiet during class.
I miss Japan. I miss the masses of students walking or biking to school. I miss the vending machines and convenient stores on every corner. I miss the happy cartoons on every poster or billboard. I miss the amazing food, and having tea with every meal. One day, after I've learned to speak Japanese, I plan to return. I'm so thankful that I was given this opportunity. My two weeks in Japan was the best experience of my life! I hope other students are given the same opportunity, and I can't wait to host a Japanese student.
Aricia, Student, Martinez High School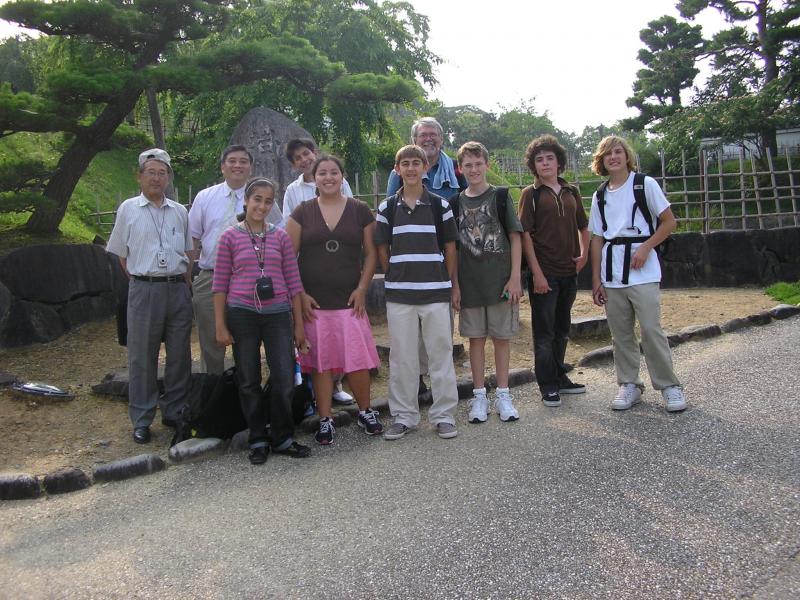 Touring Shizuoka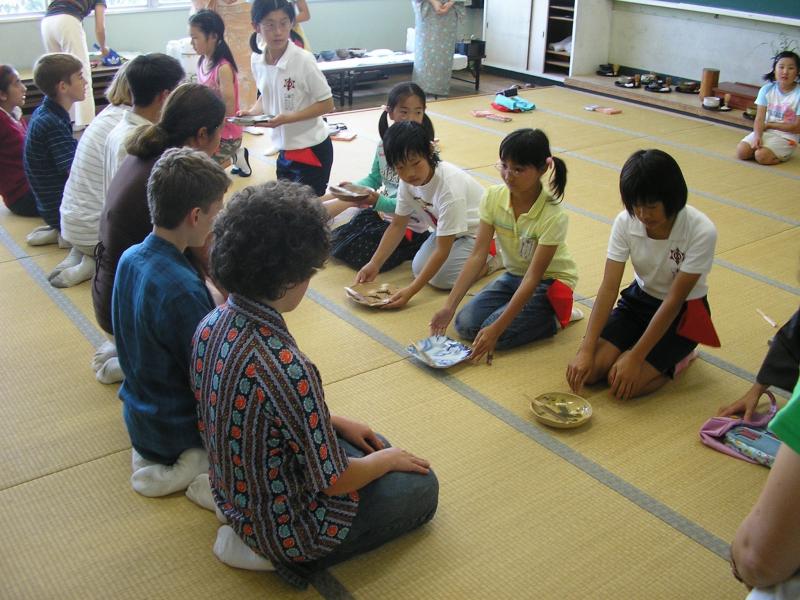 Tea ceremony at an elementary school
 The first day of the 2007/2008 school year has successfully come to an end. I'm at my desk in my now quiet room winding down from the semi chaos that always seems to greet a teacher at the beginning of the year. I still see the young expectant faces in front of me. Many of my students are just starting the adventure of learning a new language and most are excited and enthusiastic.
I can't help but think how similar the first day of school is to that day last June that 10 lucky Alhambra High School students boarded the plane to Japan to embark on a two week long adventure in another country. Their eyes were wide open and soon they would be making many new discoveries- the space saving hand washer on the toilet tank top, the many varieties of edible seaweed, the fact that Japanese students' duties include cleaning their school and that in fact, it is possible to sit on your knees for half an hour straight. They learned much about Japanese culture and a little of the language but I think what they all will remember most are the wonderful new friends they made in a land far away. We are all excited about hosting our new friends this July. The Martinez Unified School District is truly fortunate to participate in the California/ Japan Scholars Program.
Mr. Gray, Teacher/Chaperone Martinez High School
Osaka, Japan to Elk Grove, California
The Elk Grove School District hosted 30 students from July 22-August 4, 2007. They all participated in a very productive program that included language, culture, and traditional art classes as well as outings to San Francisco, the State Capitol, Old Sacramento and varied activities with their host families. They attended daily classes at the schools, where they learned American history, English language, and participated in various other activities. During the weekends they went on day trips to various places, including San Francisco and Sacramento, where they had an official reception at the State Capitol.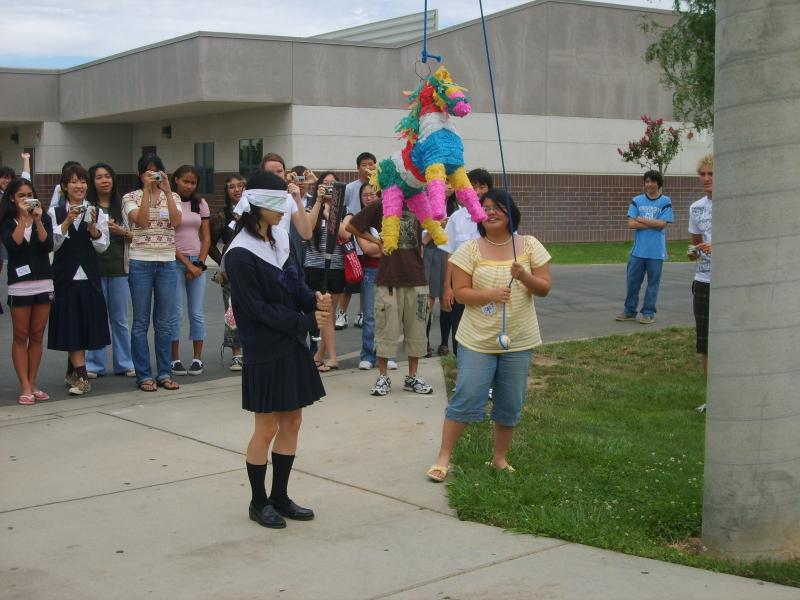 Teaching local customs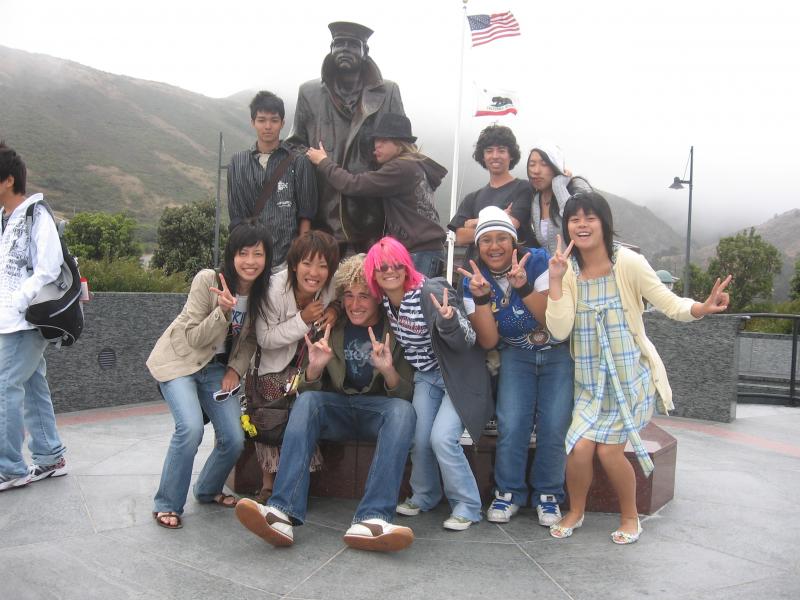 Group photo in San Francisco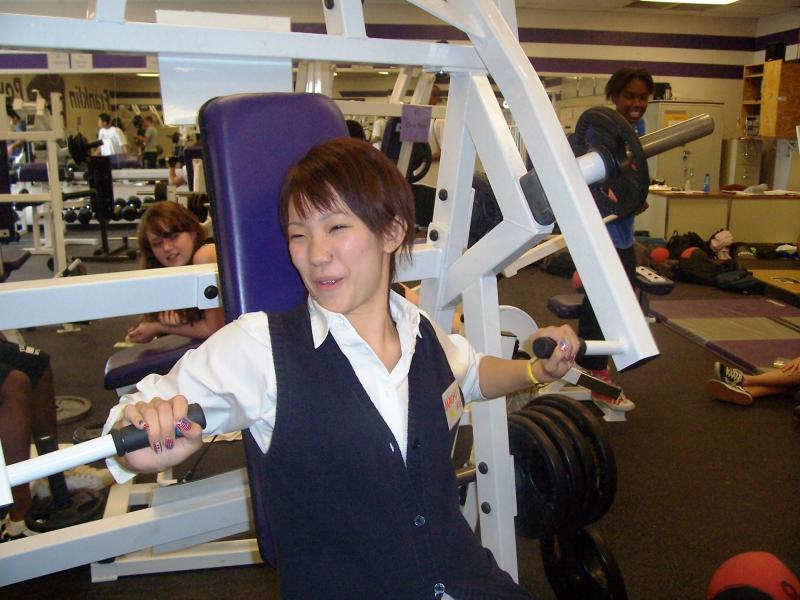 Staying in shape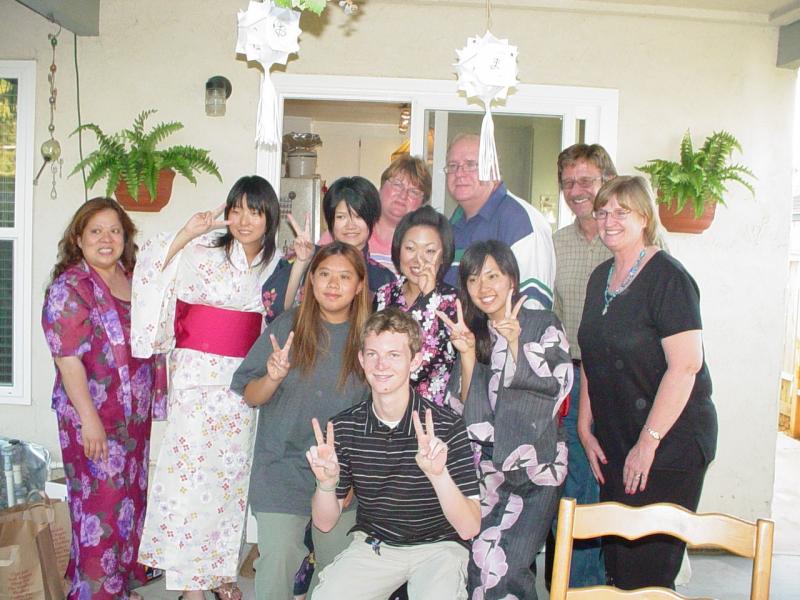 Great memories with the fantastic host families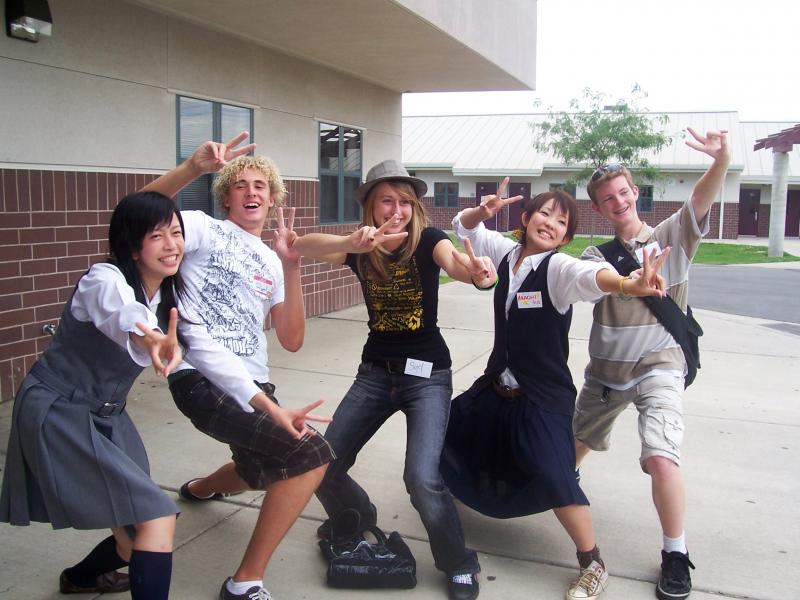 Being goofy at school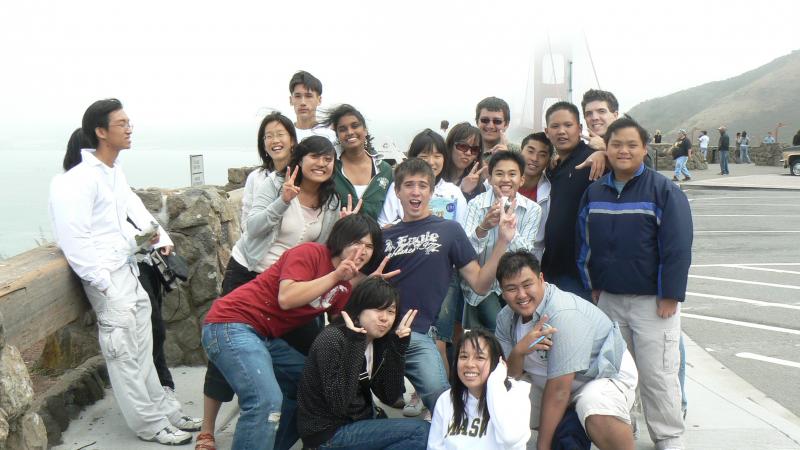 Good times at the Golden Gate
I felt American students express their ideas clearly.  And they are making their choices based on what they believe.  Everything was first experience for me, and I didn't know what to do at first, but I learned a lot of things over this program. I learned many things which I can't lean in Japan.  At the end, I felt I want to stay longer in the U.S.
 
This was my first travel abroad.  Sometime I was culture shocked over few things, but at the same time I had a great time with host families and friends.  They were very nice.   I didn't like studying English before, but now I want to become fluent in English. This two week experience has become a lasting memory.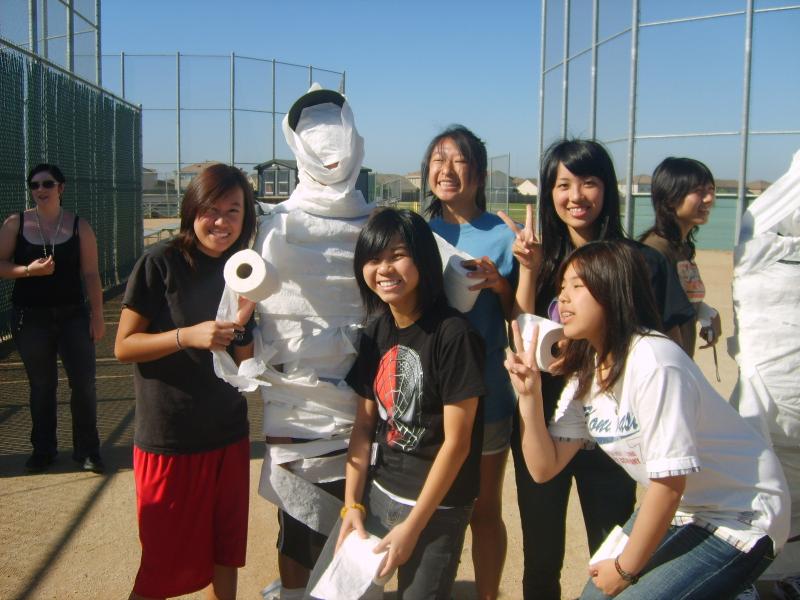 More local "customs"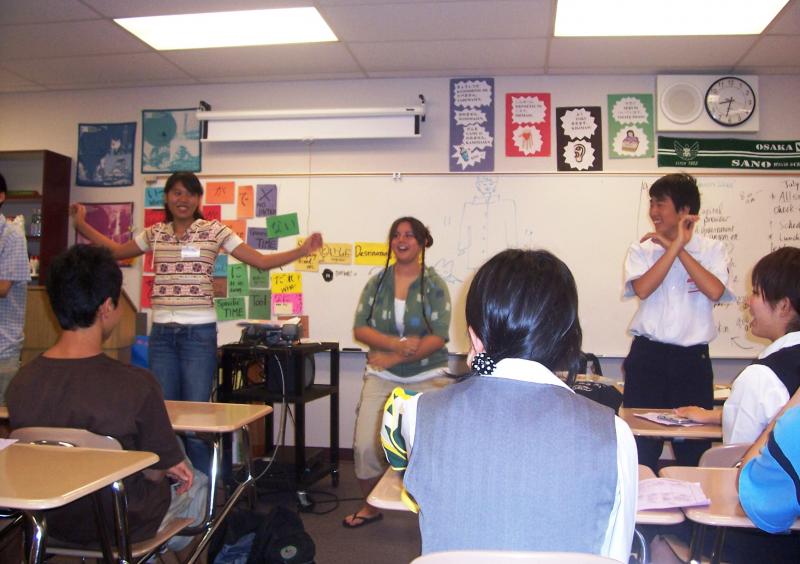 Fun in the classroom
 The Japanese students aren't that much different than U.S. students. Humor, laughter can be shared internationally. This program helps close the gap between eastern and western cultures. It also helps me learn the language in a more hands-on way. Because textbook language learning isn't the whole experience.

Enya, Student, Elk Grove

I sort of had this anime stereotype (image) of Japanese people. After this program though, I found out they weren't like the people in anime. I'm sure a lot of people have a stereotypical view of Japan and I hope this program changed that.
Brandon, Student, Elk Grove