The California State Senate and the California International Relations Foundation are proud to offer an annual fellowship for the professional development of selected parliamentary and legislative staff from developing democracies. The purpose of the fellowship is to provide the selected staff member a broadened perspective and specialized training in his or her field of work. Fellowships may be awarded to bill drafters, legal counsel, budget/fiscal analysts, policy consultants, and community outreach staff. The goal is to strengthen the durability, representation, public access and independence from the executive branch of legislative bodies worldwide.

The Foundation selects candidates who are motivated, talented, rising stars in the middle to lower staff levels who do not have sufficient seniority to be otherwise chosen for an international study tour. A typical fellowship lasts two to three weeks, and is tailored to the individual training needs of the selected international staff member. An academic component is available through the Institute for Legislative Practice at McGeorge School of Law and through the International Program at California State University, Sacramento. Practical assignments in the State Senate allow the Fellow to share the experience and insight of legislative staff.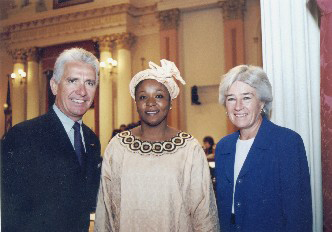 Pictured above in 2000: Ms. Didi Walson-Jack (center), Head, Legislative Drafting Department, Bayelsa State Assembly, Nigeria, who was the first recipient of the fellowship, with Senator Jim Costa and Ms. Alison Harvey, Chief of Staff to the President pro Tempore of the Senate, after Ms. Walson-Jack's introduction on the Senate floor.

"The education and skill required for citizens to participate in democratic governance are gained in exchanges like this, which are the product of collaboration between Legislatures of established democracies and those in emerging democracies. The California State Senate has commenced a worthwhile program which we hope would contribute to the sustenance of democracy in Nigeria."
Ms. Didi Walson-Jack